Invention
CLEANING DEVICE FOR INTERDENTAL SPACES
The device holds a dental floss which can be clamped in two holding arms by coupling elements to facilitate the optimum cleaning of the interdental spaces.

How does the cleaning device work?
The invention concerns a device for cleaning the interdental space, whereby a stretched piece of dental floss has coupling elements at both ends. The dental floss is rolled up in a container and can be cut off the roll by a blade after coupling. 

These coupling elements are pressed into two holding arms, which makes them sit firmly in the holding arms and can then be used to clean the spaces between the teeth. A release mechanism allows the clamped dental floss and the coupling elements to be easily ejected from the holder. This results in less waste like with conventional disposable products.

Advantages of the Invention
Benefits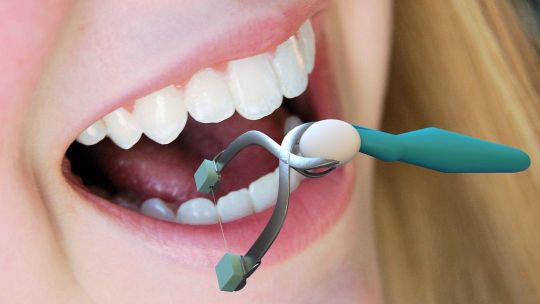 Improved Hygiene
Hygienic change of floss is possible. Thanks to the innovative system the floss does not need to be touched when snapping in or out.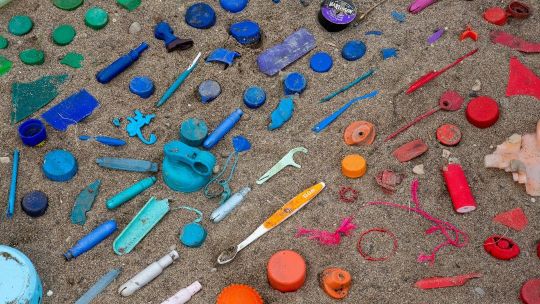 Less Waste
By using the small coupling elements, there is less waste than with floss holders or floss sticks, which are disposable.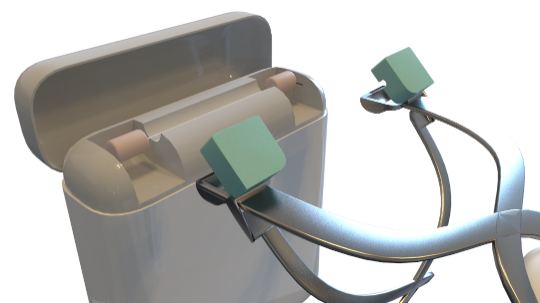 Easy and Fast changing
Thanks to the innovative coupling mechanism, the dental floss can be easily and fast replaced.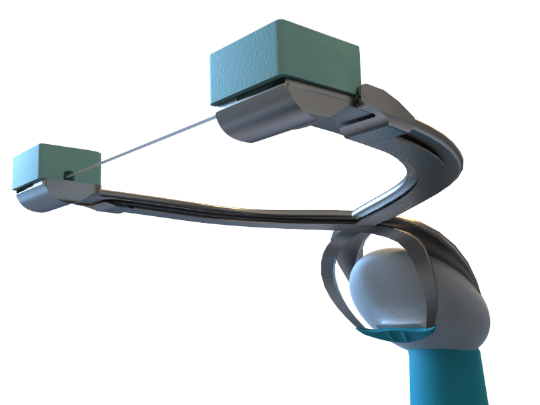 High mobility/Comfort
Between the handle and the support arms there are ball joints, so that the angle of the support arms can be changed and thus a pleasant cleaning is possible (- without dislocating the arms).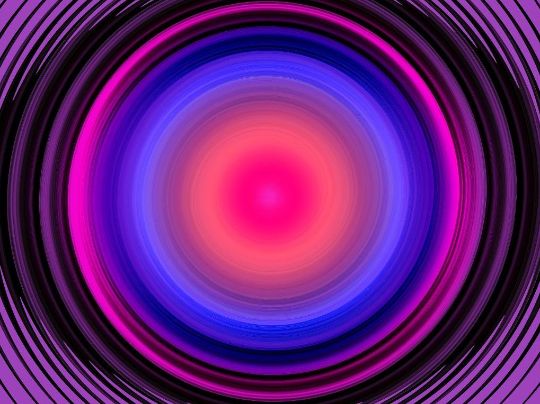 Vibration cleaning
The handle can be equipped with an inertia or vibration motor for even better cleaning results. In addition, the floss can also be inserted more easily into narrow spaces between teeth due to the vibration movement.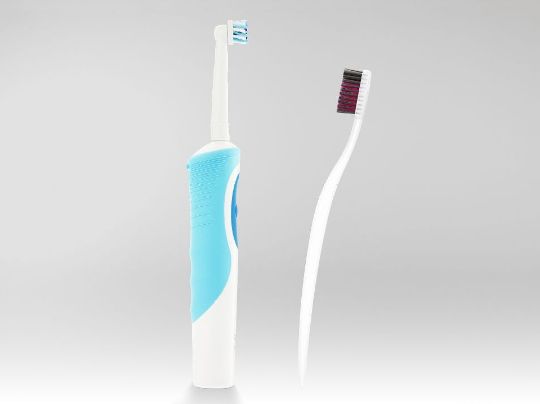 Attachment for electric toothbrush
The fixing attachment with holding arms can be designed in such a way that it can serve as an attachment for common electric toothbrushes.

Production details
There are various ways of implementing the coupling and release mechanism. 
- One possibility would be that the holding arms consist of two parts (see Fig. 1 from the property right) and the coupling elements are clamped between them with dental floss. 
- Another possibility would be a mechanism using a latch with a spring element and inserting the coupling elements until the latch snaps shut and firmly clamps them in place. The latch can be pushed back by means of an operating button to release the coupling elements.
The coupling elements can be made of metal or plastic. They can be designed spherical, cylindrical or cuboid with a lead-in chamfer.
The floss with the coupling elements is available in a storage container and can be removed individually.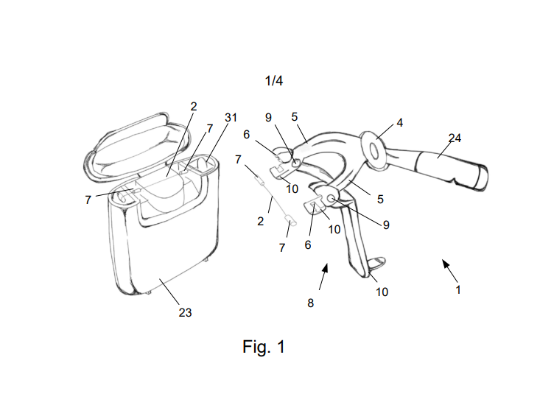 Application of the invention
Area of Scope
The invention is intended both for private use in the home and for professionals in dental surgeries. 

 The application is made much easier by the vibration and the cleaning result is also more thorough.

Type of protection: German patent registrations
Reference number: DE 10 2020 121 792.7
Date of registration: 19.08.2020
Main protective claim:Device for cleaning an interdental space, comprising two spaced-apart holding arms (5) for dental floss (2), characterized in that the dental floss (2) has coupling elements (7) which can be releasably locked to the holding arms (5) by means of a release mechanism (8).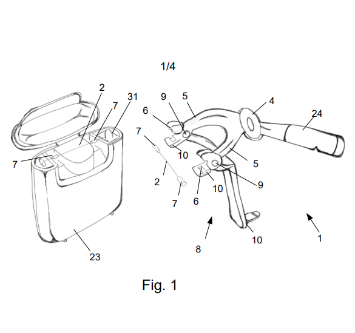 Fig.1
eine schematische Darstellung einer Vorrichtung zur Reinigung eines Zahnzwischenraums mit einem Vorratsbehälter für Zahnseide nach der Erfindung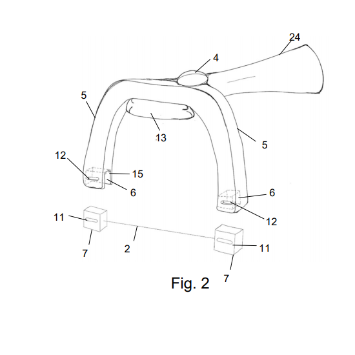 Fig.2
eine Darstellung der Vorrichtung zur Reinigung eines Zahnzwischenraums in erster alternativer Ausgestaltung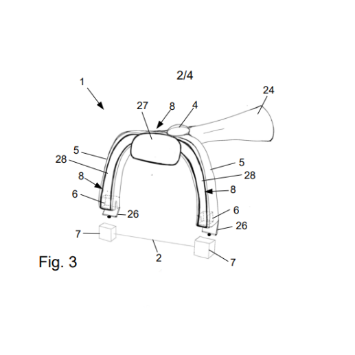 Fig.3
eine Darstellung der Vorrichtung zur Reinigung eines Zahnzwischenraums in zweiter alternativer Ausgestaltung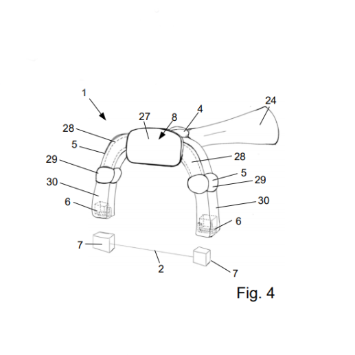 Fig.4
eine Darstellung der Vorrichtung zur Reinigung eines Zahnzwischenraums in dritter alternativer Ausgestaltung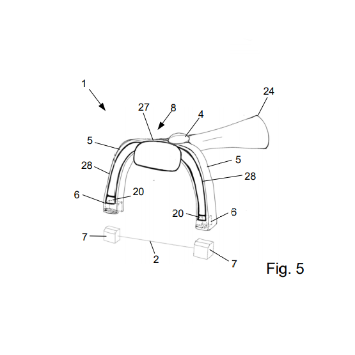 Fig.5
eine Darstellung der Vorrichtung zur Reinigung eines Zahnzwischenraums in vierter alternativer Ausgestaltung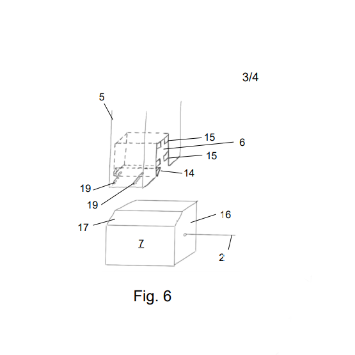 Fig.6
eine Teildarstellung eines Haltearms der Vorrichtung nach Fig. 5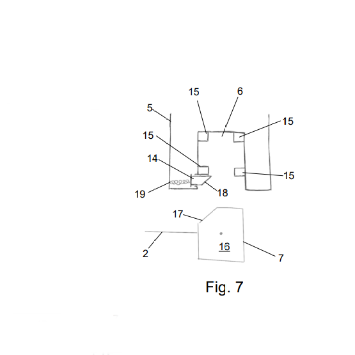 Fig.7
eine Seitenansicht der Teildarstellung der Vorrichtung nach Fig. 6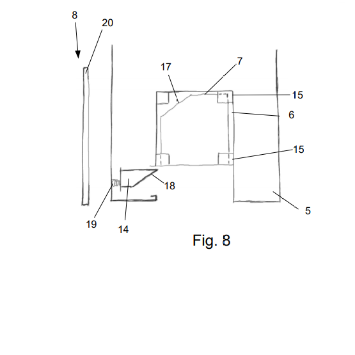 Fig.8
eine weitere Seitenansicht der Teildarstellung der Vorrichtung nach Fig. 6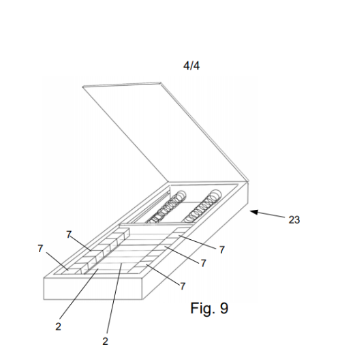 Fig.9
eine Darstellung des Vorratsbehälters nach Fig. 1 in alternativer Ausgestaltung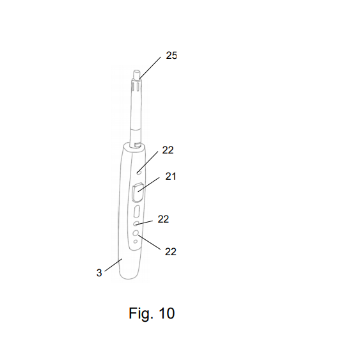 Fig.10
eine Darstellung eines Handgriffs der Vorrichtung
Are there any Open questions?
More information required?
We would be happy to provide you additional information material or clarify open questions with the inventor for you. Simply contact us and we will be happy to support you.

Contact us

JMW INNOVATION GMBH

jmw Innovation GmbH has been successfully implementing and marketing ideas at two locations (Salzburg/ Berlin) for over 20 years. Thanks to our many years of networking, our passion for new ideas and our experienced employees, we are THE first point of contact for new ideas in the German-speaking world.

Website
www.erfinderberatung.com
© 2022 All rights reserved.